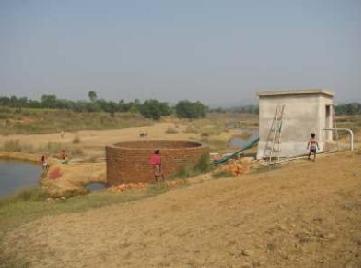 The village Kusumkandar in Muhammadbazar Block of Birbhum District is almost on the border of Jharkhand where the undulated terrain has lateritic and sandy loamy soil. River Dwarka flows through the northern part of the village. There are 44 families who are dependent only on a single crop and work as daily labour mainly in the stone crushers or elsewhere during the rest of the year. Some of them are landless and migrate to neighbouring areas to earn their livelihood.A well measuring 22 feet in diameter and 10 feet in height has been constructed on the river bed to allow the river water to get collected in the well. A pumpset is installed on the well to lift water and supply through pipes with 4 outlets. Drains have been prepared to channelise water to the cultivable area when there is scarcity of water.
This work was started in August 2010. A group - 'Birsa Munda Purush Samity', was formed with the farmers of 44 families. After the completion of work, the group cultivated their first winter crop ever (like Wheat, Pea, Bengal Gram, Lentil, Mustard etc) in 70 acre of land. The seeds were initially supplied by DRCSC on an agreement that the group would return the seeds with a 20% interest so that DRCSC could use that seed for other groups. The group decided that input hungry crops like Opium, Cabbage, Boro paddy etc. would not be cultivated on that plot. Every user was charged an amount of Rs.10 per hour which was deposited in the group account. Villagers gave Rs.5 towards cost of diesel for running the pump.Those having their own lands gave Rs.50 after harvest to meet expenses for future maintenance of the machine. For the sustenance of the landless families, the group members made it a rule that the land owners should provide a minimum of 3.5 decimal of land to them for cultivating winter crops, keeping the same rate for water usage. The total cost of this RLI scheme was Rs.4,61,321 of which Rashtriya Krishi Vikas Yojana scheme provided Rs.3,60,321 and DRCSC supported with Rs.71,078. From the RLI construction work approximately 300 person-days were created.
They cultivated wheat in around 65 acres of land where they had invested about Rs.58,000 (without labour and water) and they got 360 quintals of wheat worth about Rs. 7,00,000. Byproducts of wheat also fetched some extra income for them. They also cultivated mustard on 2 acres of land that gave them an yield worth Rs. 19,600 (including fodder).
Source : DRCSC newsletter Issue No. 7